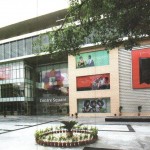 Kshitij Retail Destinations (KRD) announced the launch of its first mall 'Center Square' in Vadodara in June 2008. Center Square is located in Vadodara's new retail hub Sarabhai Circle, an area that is fast becoming popular for its attractive shopping and hangout options. The mall is spread across four floors and 1,40,000 sq.ft. offering a variety of shopping, entertainment and food options through exciting brand categories, many of which are introduced in the city for the first time.
The mix of brands at Center Square is chosen keeping in mind the consumer's preferences and needs. Stores such as Levi's, Benetton and Chemistory appeal to the youth while Croma and @Home are exciting for all the family. In addition to national and international brands, certain local gems have also been handpicked. For instance Kalanjali, an ethnic accessories store from Hyderabad, Zerostock, a made-to-measure menswear store from Bangalore and Trident, a home furnishings brand from Delhi, all have presence at Center Square. Hidesign's presence in the mall is its first in Vadodara.
Kapadia Assoiciates, a leading Indian architectural firm, has provided expertise for the mall design and structure while the graphics and signages have been created by Buchan Consultants from Australia. A large centre space facilitates arrangement for events and cultural shows with ease.
Brand choices available at Center Square include Puma, Planet Sports, Reebok, Adidas, Nike, Spykar, Zodiac, Dockers and Wills Lifestyle. For the kids there is Lilliput, Scram and OYO, which bring in the trendiest kidswear to the city. You can see the Complete List of Stores Operating at City Center Vadodara here. You can contact the Mall Management for business opportunities at +91-22-40436110