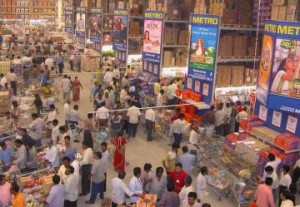 Retail in India is growing fast and changing rapidly, in particular the groceries segment potential is vast, and everyone wants a slice of the pie.
Retail sector is seeing significant disruption with digitisation of Kiranas (family-owned shops selling groceries and other sundries), the rapid rise of ecommerce (D2C and eB2B), and private-label companies making market share gains. In addition, mega distributors such as JioMart are leveraging digital, which has impacted distributors, retailers, FMCG companies, and, ultimately, the consumer. Demographic and economic shifts in income (especially post Covid-19), along with this surge in ecommerce, has really impacted the sector. Retail has adopted technology much faster and on a larger scale than many other sectors. Ecommerce and D2C penetration is expected to rise significantly over the next five years from 0.4% (in 2020) to 3% by 2025, which is still far behind China (15%) and South Korea (20%) in terms of their current grocery ecommerce penetration rate.
Traditional kiranas currently account for more than 80% of the retail market. Given the scale and diversity in India, there is potential for different formats and channels to coexist, and even collaborate into better serving customers, but digitalisation seems to be at the centre of everyone's plans. Of the 13m Kirana stores in India, less than 4% have adopted some form of digitisation – through ordering platforms, payment, digital inventory, or collection. However, more than 50% of Kiranas are considering working with tech providers post-Covid, given the strong impact from direct online sourcing, efficiency gains, and customer interactions via WhatsApp-based ordering, digital
kiosks, and online payment facilities. Even offline brands are now pushing D2C in a big way – though this does require scale, traditional offline heavyweights such as P&G, Hindustan Unilever, and Coca-Cola have launched their own D2C platforms.
How Reliance Retail & JioMart is a Big Threat to Indian Retailers & FMCG Manufacturers ?
JioMart is the biggest threat with its upstream integration of the supply chain, sourcing leverage and access to data, which gives it a large competitive moat. Operating in 200 cities and with 400m WhatsApp users, it is looking to capture all parts of the value chain from farm to fork. The direct sourcing from farmers has led to dual benefits of higher margins and fresher products. Similarly, bulk buying goods from manufacturers gives margin benefits that are partly reinvested into higher discounts for JioMart's customers. Those customers generate more data, allowing the company to drive its private label push. Reliance Retail generates 14% of its revenues from private labels, whereby it leverages its robust supply chain network and faces fewer barriers compared to foreign competitors.
The underlying macro factors that have generated India's retail growth in the past 10 years are expected to continue to grow steadily for the next decade. Greater purchasing power, a steadying savings rate, and growing consumerism will continue to generate strong sales.