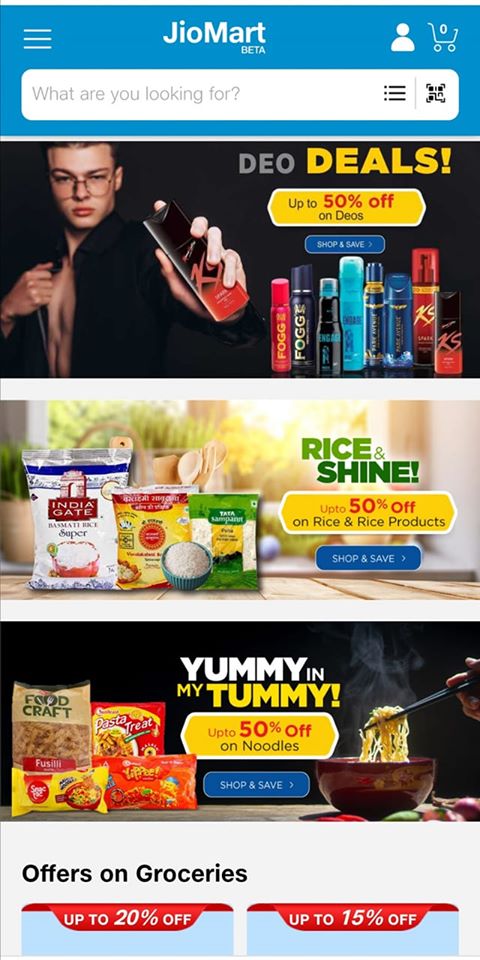 Mukesh Ambani led Reliance group is embarking on an ambitious idea to merge two of largest spending categories of Indian Consumers – Digital & Retail. JioMart is an innovative business idea in this regard. Reliance is trying to tap into the most popular communication platform (WhatsApp), enabling subscribers to order from neighborhood kirana (mom-and-pop) stores that leverage Reliance Retail's supply-chain backend.
If executed well, JioMart will be able to create a strong, scalable platform with an extremely high entry barrier. However some of the issues in this Tri-Party Digital Retailing experiment are as under,
 Grocery business yields a meager 13% gross profit margin, which for this business model has to be divided between three participants: Jio, Facebook and kirana stores. Hence even with a 25% market share of online grocery segments by FY25, the available profit pool for the participants will be relatively small.
The sheer number of intermediaries, SKUs and scale of operations create numerous fault lines.
There are established competitors of varying size bringing in various competencies on the table.
The Big Omni-Channel Reliance Retail Setup
Reliance plans to become the largest omni-channel retailer through its hybrid online-to-offline new e-commerce platform. Modern retail and e-commerce only make up a small portion of India's overall retail market.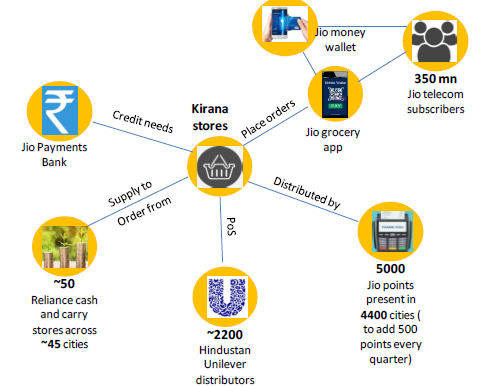 Reliance will also tap into its own cash-and-carry stores. It has about 50 such stores in 45 cities. In addition, Reliance can help these small retailers get low-interest loans. Bundled with RJio's PoS terminal comes the Jio payments bank account. Reliance can do this by allowing NBFCs (non-banking financial companies) and financiers to view storeowners' credentials, allowing them to better assess their eligibility for finance. Often kiranas do not get loans for lack of credentials.
Mobile Point of Sale System – Billion Dollar Burn Reliance has deployed merchant point of sale (mPoS) terminals. Currently, there are 15,000 digitized stores in the country. Jio plans to grow this to 5mn stores by 2023. While it has taken two decades to supply 3mn PoS terminals, we believe Jio targets to roll out 300,000 PoS machines or 10% of the current PoS base, by FY22E. Reliance will use the PoS device as a loss leader to acquire a merchant, just like it did in voice telephony to acquire data-starved users. Reliance may have to burn several billions of dollars on the entire project, including financing of PoS machines.
Competition is Strong from incumbents Reliance has had mixed initial success so far with some teething issues, particularly in the wake of the covid-19-induced delivery disruptions. In the meanwhile, Amazon has rapidly been increasing its footprint. Similarly, online grocery competitors—including BigBasket—have also successfully fully resumed providing services again after covid-19-related glitches in April 2020. This provides incumbents, such as Amazon and BigBasket, the opportunity to further capitalize on their first-mover advantage, in a "Winner-Takes-It-All" e-retailing business.
So far, Jio had an ambitious goal of enabling the entire digital application ecosystem. However, with mixed success thereof, Reliance has not been able to gain undisputed leadership in many verticals. Will Ambani & Reliance group be able to crack the Digital-Brick & Mortar Retail dream ?