The forums stands for everything that the shopper is looking for: best brands, cheery interiors, vibrant variety and an experience which has come to be known as "The Forum experience". The perfect place reebot and rewind!
Developed by Prestige Group, The Forum mall has a truly international ambience in an international standard setting of 6,50,000 SFT of "lead in", single loaded corridor designed shoppong space. It offers a planned experience mix of 11 screen multuplex, family entertainment, F&B, retail and services. All together 72 stores housing brands fo international, natoinal and lical flavour. Planned parking based and Multi level Car parking irrigating the mall with balanced footfalls. Large aisle spaces, adequecy of vertical transport and clean ultilites add to the Forum experience. The features facilities lice Children's crèche, mother's room, handicap friendly mall & assistance.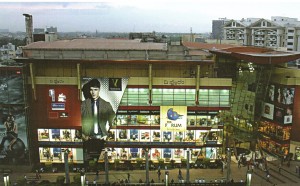 The Forum mall is the preferred destination of the catchments' fo Koramangala, Jayangar and Hosur Road alsop knwon as the IT corridor. Two popular colleges and young double income group in the catchments ensures an average 35,000 footfalls on weekdays and 60,000 footfalls on weekends. Sustaining a Mall is as much important as making it….perhaps more so. The Forum continues to reinvent the experiential offerings which are designed to retain the loyal customers and benefit the tenants. The largest offerings on the Forum Gift Vochers, The Forum – ICICI co branded credit card, the Wi-Fi hot spot.
You can contact the forum mall at +91-80-22067752 and view the list of around 90 stores available for shopping at The Forum Bengaluru here.