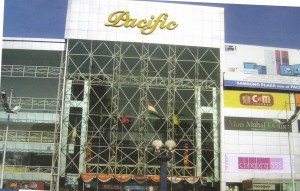 Pacific East mall in Ghaziabad is one of the most successful mall in India. Containing a 4-screen multiplex, it is also a first mall to have a 4-star hotel by the name of Clarks Inn along with large banqueting facilities.
This state-of-the-art value centre, offers consumers the finest fashion, dining and family entertainment options in international class retail environment. Its well conceived tenant mix for a perfect shopping and entertainment experience includes the largest food court in Delhi/NCR serving multi-cuisine specialities with single point cash card payment system, a large hypermarket on the single floor level, and a massive atrium providing high visibility to the retailers on all sides.
Featuring a total built up area of approximately 6,00,000 sq.ft, the mall's anchor tenants are Westside, Globus, Ritu Wears, Pizza Hut, Spencer's, The Home Store, Croma, Jumbo, Chunmun and Store99; the multiplex operator is Big Cinemas, while the hotel operator is Clarks Inn.
The property also houses parking space for more than 1,500 cars, and a food court with a capacity to seat 550 people at one time.
Business Inquiry Contact – Phone +91-120-3002000 Fax +91-120-2774151
List of Brands and Shops in the Pacific Mall are as here.