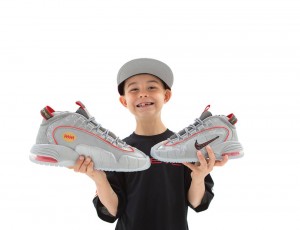 Although all 3 brands – Nike, Adidas Group & Universal Armour (UA) will likely benefit from a growing global category over the next several years, we name Nike the winner of our Head to Head report versus adidas and UA given strong sales growth and global market share leadership, its strong digital presence, the potential for gross margin expansion opportunity driven by pricing power and innovation in the supply chain, its ability to leverage costs.
Our topic of Research is the Direct to Consumer Initiative from all the 3 Big Brands. Direct To Consumer (DTC) remains a profitable focus for all three players. DTC includes outlets, full price stores and e-commerce. Nike's DTC is ~24% of the total company vs. adidas' 26% and UA's 30%. Each player is expecting to grow the division through e-commerce and through branded stores.
NKE plans to continue investing in DTC with more owned concepts including Basketball and Running doors, as well as a focus on Nike.com and The NIKE Factory Store footprint, and the NIKE Only Stores. adidas Group plans to increase their Controlled Space (Retail, Franchise and Shop-in-Shops) from the current 50% to 60% of sales by 2020. UA expects to have ~140+ total stores, and continue targeting top locations in influential markets including high street locations and premium malls. UA is also investing significantly in tech & recently acquired 2 new apps. Also, UA is testing DTC beacons to provide customers with more product information via apps.
E-commerce currently represents ~3% of Nike's total sales, in line with the e-commerce penetration at adidas and vs. 9% at UA. Nike aims to reach $2B in e-commerce sales by 2017. Mobile sales are seeing the greatest among e-commerce platforms. On an annual basis, adidas currently generates over ~€500 million from digital sales which is ~3% of total revenues for adidas and Rebook. adidas is focused on increasing its e-commerce penetration, and has had a concentrated effort on the website platform, mobile applications, and controlled space. adidas Group plans to increase their controlled space (retail, franchise and shop-in-shops) from the current 50% to 60% of sales by 2020. For UA – Online sales were ~9% of total sales as of 6/2013. ECommerce mobile sales grew 77% during December
2014 vs. December 2013.
Digital Initiatives & Mobile Apps Platform
Given mobile's strength, investments in digital applications for mobile are increasingly important. UA most recently acquired two notable athletic apps which we expect could give them greater mindshare in Europe. In its most recent conference call, UA noted its digital platforms created the largest health and fitness community by a factor of 2-3x at 120M unique members and growing over 100,000 per day and 4.2M in January. adidas also recently launched "Confirmed" which is fostering demand for limited edition footwear releases. Nike has maintained Nike+ software and system since 2006, and it continues to be an important communication tool with consumers. UA believes it now owns the largest digital health and fitness community in the world (when combined with its Dec '13 acquisition of MapMyFitness), which it plans to leverage to create an authentic consumer connection to the UA brand and ultimately drive stronger global product sales in a way that is differentiated from other athletic brands.
Technology will disrupt every Industry from Eye-wear to Footwear, just matter of time on what is the best way to disrupt the market. If you have it in you, go for it.