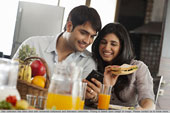 Dabur continues its aggression in the consumer space with the relaunch of its Amla hair oil in a new youthful modern look and new positioning of Mazbooti bhi, Khubsoorti bhi, roping in Priyanka Chopra as the brand ambassador. Every segment of the consumer care division has recorded growth – hair care registered 10.4% YoY growth, oral care 8.1% YoY, health supplements 18% YoY, skin care 13.3% YoY, home care 14.4% YoY, digestives 9.8% YoY, and OTC & ethicals 12.7% YoY. Foods posted strong growth of 34.5% YoY (led by 37.6% YoY growth in juices).
Dabur's Products Competitive Globally
In latest ranking, Dabur earned the honour of being the only Indian company to make it to WWD Beauty Inc.'s Top 100 2012. The company was ranked 53rd amongst the World's top 100 beauty companies, moving up nine places from 62nd position in 2011. Its strong beauty portfolio (a mix of skin and hair care products) comprising Dabur Amla, Organic Root Stimulator, Fem, Gulabari, Uveda, New Era, Vatika, and Hobby business helped achieve this milestone.
Dabur, riding on Ayurveda positioning, competes against some of the top brands (in top 100) in the Indian beauty space. We appreciate the company's herbal-based presence in the domestic beauty space and are enthused by its recognition on a global platform against biggies like L'Oreal, P&G and Unilever.
The following table shows the Brand Positioning of Dabur's Various Products.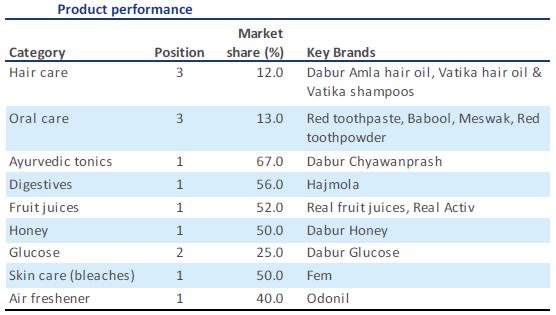 As seen above, 6 of the 9 Products occupy the Number One Slot, the most commendable is the Real Activ Juice where it is competing with Global brands like Tropicana.
Rural Reach of Dabur
Dabur's double digit volume growth is expected to be on account of doubling of direct rural reach from 14,000 to 28,000 in 10 states (90% of which is likely to be achieved by Q2FY13 end). This expansion will help increase reach for juices, health care and skin care categories. Full results of this expansion will be visible in H2FY13.
Health & beauty Chain Still in Red
The retail venture is posting ~INR100-120mn loss every year. Dabur had invested ~INR700mn in H&B which contributes ~0.8% to consolidated sales. Currently, there are 47 such stores which the company plans to increase to 100 over the long term.