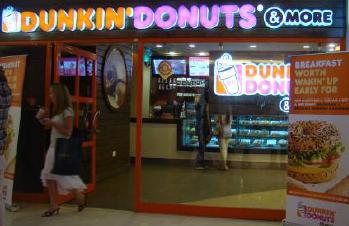 Jubilant Foods has introduced the World Famous Dunkin Donuts to Indians starting from New Delhi where it has 3 Stores – Connaught Place (flagship store – 80 seats), Greater Kailash-1 (80 seats), and Saket (60 seats). It now sells the famous doughnuts with sandwiches, coffee and breakfast menu in India, and has named them "Dunkin Donuts & More". It will have 10 such stores, all 100% company-owned, by end FY13. This business will take a while to finalize as Jubilant experiments with various store formats.
Dunkin Donuts and More – The Menu
The extensive menu (24 varieties of doughnuts, 28 varieties of sandwiches, 24 different beverages) is a cross between what one gets at McDonald's, coffee shops, Subway, etc. The menu has been tweaked around to cater to Indian tastes – hence, "& More" in the name, which is unique to India. Compared to only doughnuts and coffee in outlets across the globe, the outlets in India serve sandwiches, tea, smoothies and milkshakes.
What's Special in Indian Menu of Dunkin Donuts?
India specific additions include Mango (India's king of fruit) doughnuts. Mango also finds its way into smoothies and milkshakes. This is bound to have its share of fans, particularly since Alphonso makes an entry there. Lychees are another Indian touch in Dunkin's signature cold drink – Coolatta. Sandwiches form a part of the overall menu for DD&M, keeping in mind lack of too many cafés in India that offer lunch and dinner options. Sandwiches vary from the croissant and bagel to the ciabatta and focaccia, and cute stuff like a cupwich and a bunwich.


What are the Prices of Dunkin Donuts in India
The doughnuts are priced at Rs45 each, while the breakfast is priced at Rs90. Sandwiches range from Rs80 (vegetarian) to Rs110 (non-vegetarian), with the cupwich and bunwich costs half of that. Beverages start at Rs45 for a Coolatta.
Which are the Top Selling Donuts in India ?
The top selling doughnuts are Chocolate Temptation, Boston Crepe, Death by Chocolates, Irish Mocha, Triple Chocolate, Cookie Cartwheel, and Chocolate Eclair. Party packs are in demand with 6 for the price of 5, and 12 for the price of 9 being popular.
Business per Customer at Dunkin Donuts:
The average customer spends around Rs200 per head on weekdays and maybe around Rs300 per head on weekends. They see footfalls of 300-400 on weekdays, and 600-700 on weekends. About 15% of revenue is from takeaways, but there are no "home deliveries" yet. Jubliant is the champion in Home Deliveries of Pizzas, but it will not be able to do so here since the agreement restricts it.
The only thing that is missing in being a true Donut store is that they are manufactured in Noida and this somehow kills
the experience and joy of seeing a doughnut being prepared in your presence that we have seen in the United States, even though the doughnuts are soft and fluffy with absolutely no compromise on quality.