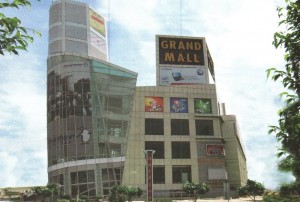 DLF Grand Mall is prominently located close to the junction of Mehrauli-Gurgaon and Faridabad-Gurgaon Road. Designed by the renowned architect Hafeez Contractor, it is a prime example of superior design and efficient space planning besides having a stunning glass facade.
Tata Westside is the anchor store coupled with brands like the Landmark Book Store, Magppie, Noritake and X-Box, to name a few. The shopping mall features all convenience factors like centrally air-conditioned climate control, adequate number of service and freight lifts, easy access to multi-layered parking, assured power supply through 100% power backup, and fire detection and protection system.
Occupying an area of 220,000 square feet, the main components of the mall are anchor stores, retail arcade, gourmet outlets and a kids edutainment floor. This G + 4 storied property targets the catchments of DLF City Phase-1, II, III, IV and Sushant Lok-1 [A & B]. It offers parking for approximately 310 cars.
You can view the list of Stores / Tenants of DLF Grand Mall, Gurgaon here.
Contact Details of DLF Grad Mall
Rajeev Chopra, Mall Manager, Mall Management Office, UB, Grand Mall, DLF City, Phase 2, Gurgaon, Mehrauli Road, Gurgaon-122022
Phone +91-124-2355592
Fax +91-124-2355592
Email chopra-rajeev@dlfgroup.in