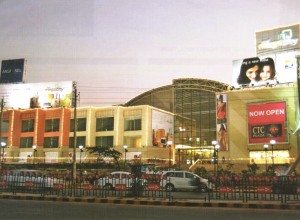 The Mega City Mall is located on the M G Road, Gurgaon. Designed with utmost thought and care, the Mega City Mall is a place where one could expect what every brand needs – customer loyalty. With a contemporary retail environment that offers excellent space, flexibility and cost, it is perhaps nothing quite like retailers would have seen before.
Spread over nearly three acres in one of the most prosperous parts of NCR, and amidst world class office complexes, shops and large residential areas, Mega City provides an ideal ground for shopping. It also houses Giant hypermarket, a brand new concept in shopping for the first time in India. Over 60,000 square feet has been taken to meet Giant's mammoth requirements.
At the Mega City Mall, retailers come together and address every need of the discerning buyer. From furnishing to cosmetics, jewellery to designer wear, there's nothing the complex does not cover. Shop space has been structured keeping the retailers in mind. Signages and shop windows allow retailers to create a distinct pull.
The Mega City Mall also has what most discerning taste buds look for. Multicultural food courts and specialty restaurants give visitors a varied choice of dining options. The Mega City has been designed for the discerning customer with distinct features that breathe class; it serves as an opportunity for retailers, both in terms of design and quality. The focus is on world standard, be it in materials, layout, convenience or safety features.
Business Inquiry Contact – Phone +91-124-4014895, Fax +91-124-2570670
You can View the List of Stores and Brands in Mega City Mall, Gurgaon here.