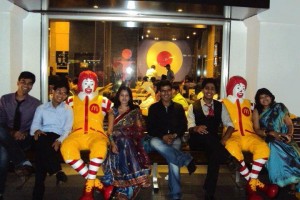 Hardcastle Restaurant (HRPL) is the master franchisee of McDonald's for India's southern and western regions . The other franchisee is Connaught Plaza Restaurants Pvt Ltd which holds franchisee rights for Northern and Eastern parts of the country. It pays royalty of 3% of sales which will gradually increase to 8% by 2020.
HRPL acquired is a Development Licensee means an entity which is granted franchise rights to own and operate McDonald's restaurants, to adopt and use the McDonald's system to develop and run McDonald's restaurants in a given area, and to advertise and use the McDonald's brand name and trademarks for products sold at such restaurants.
Growth of HardCastle & McDonalds in India
1995-1996 This is the period when McDonald entered India and two franchisees were awarded. Company set up the business during the period and created supply chain backward linkages till farmers and set up processing facilities. Company decided to move without beef and pork to take care of regional sensibilities. Kitchens were segregated for vegetarian and non-vegetarian food.
1997-2002 (Build): Established the business foundation. Worked on Customer Communication. They introduced innovative products taking care of consumer affordability( including Pizza Puff and Aloo Tikki). Focused on locally relevant products. Made supply chain more efficient taking out excess costs out of the system. They also hired key people who have been instrumental in building businesses over last few years.
2003-2011 (Grow): Company laid the foundation of eating out and promoted every day value and convenience. They launched Happy Price Menu in 2004. Also launched Extra Value Meal in 2008-2009 to move people towards full meal from just a few products. Focussed on delivering convenience through new stores (better ambience) and brand extensions like
Dessert Kiosks, McDonald's Delivery, Breakfast and Drive Thru. Product menu was enhanced with a mix of international and India focused products. Company expanded number of stores from 30 stores in 2003 to 130 stores during this period.
2012 onwards – Accelerate the pace of store expansion. Modernizing store experience and adding new food and beverage products to gain share across day parts and categories.
In the next article we'll see how Hardcastle convinced McDonald's to Localize the Menu in India and corner lareg share of fast food quick service restaurants in India.