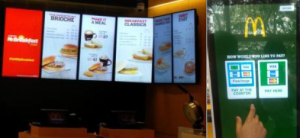 In order to understand McDonald's Experience Of The Future (EOTF) store, our retail analyst visited McDonald's Nariman Point store in Mumbai.
Named Experience of the Future, McDonald's new restaurant platform seeks to engage millennial customers by introducing a technology, food and service upgrade to the fast-food concept. It is one-of-a-kind store and India is the fourth country where it has been introduced after the US, the UK, and Singapore. The store is located in CR-2 mall in Nariman Point, South Mumbai. The aim of the format is to provide a superior dining experience, which would increase frequency of customer visits.
The store has seating capacity for ~80 people and it provides table service. Due to the lower number of footfalls, table serving is viable. Therefore, similar stores may be rolled out in places that do not have significantly high footfalls.
There are large touch-screens with menus embedded at the entrance of the store for placing orders. There is an attached POS machine to accept card payments. The kiosk offers an option to pay at the counter. In addition, the menu changes dynamically based on time. Once the order is placed, the touch-screen kiosk prompts the user to collect an order tracker (RFID enabled) and enter the number. This tracker can be placed at designated sensors on the table so that the staff is able to deliver the order to the table.
The store also has electronic tablets attached to tables where one can browse the internet, play in-built games, while waiting for the order. The washrooms in the store are equipped with a new and smart hand-wash system, which helps to save 90% water.