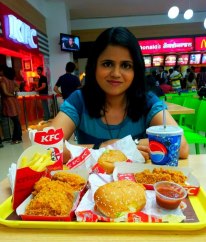 Jubilant Foodworks master Franchisee for Dominos and Dunkin Donuts has ambitious expansion plans to open over 100 stores per year, taking the total estimated store count to 800 stores by FY15. At the same time big players like McDonalds, Yum Brands, Subway, CCD, and other smaller and regional players also have similar expansion plans. Also, many new entrants are expected to enter this business in the coming few years.
Yum Brands (YUM US) has outlined an aggressive expansion strategy in India entailing investments of about USD100m and a target of 500 KFC outlets by 2015. Unlike its strategy in most international geographies except China, Yum Brands in now planning to open company-owned Pizza Hut stores in India to expedite its expansion plans.
Similarly Subway earlier indicated its plans to expand in tier-2 and 3 cities/towns and operate around 1,000 stores by 2017 with estimated franchisee investments of about USD58m.
Cafe Coffee Day, the leading café chain in India, with over 1,400 outlets, plans to add about 200 outlets every year.
Hardcastle Restaurant, McDonald's India franchisee operating in West and South India, plans to add about 40-50 outlets every year for the next three years. Currently it operates about 155 restaurants in 15 cities.
The Indian Organized QSR space has been growing in high double digits for the last five years and is estimated to be merely 7-10% of the total food service industry, as per Food Franchise Report. QSR business is still in its nascent stages and the store-penetration levels are fairly low, providing immense expansion opportunity for all the industry participants. It should lead to category development especially in semi-urban areas and tier 2 and 3 cities/towns. The spiraling real-estate costs at key locations, and training and retaining a skilled workforce could pose a challenge for all players in the segment.
Factors such as a favourable demographic profile, consumer willingness to try different and international cuisines, the increasing importance attached to hygiene, working women, rising income levels, etc., are expected to drive double-digit growth rates in the QSR space over the medium term. Domino's Pizza could be amongst the larger beneficiaries of this category development due to its headstart in the QSR space, which brings in its experience in menu innovations, better understanding of consumers' price sensitivities, economies of scale and strong back-end and supply-chain / logistic capabilities.