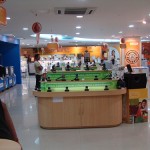 Home Solutions Retail (India) Limited (HSRIL) is a part of Kishore Biyani's Future Group where 33% of the stake is held by Private Equity Investors. operates in Consumer Durables & Electronics (CDE), Home furnishings and services including design segments. Its key formats are Home Town, E‐zone, Home Bazaar, Furniture Bazaar and Electronics Bazaar. HSRIL has a total of 2.4mn sq ft of retail space, which include 0.8 mn of shop‐in‐shop stores in the Big Bazaar hypermarket.
Merger with Parent – Pantaloon Retail's (PRIL) board has approved the merger of the consumer durable and home improvement business from Home Solutions Retail (HSRIL) into itself. The payout for this will involve fresh equity issuance of ~12.2 mn in 2 tranches (~5.9% dilution in PRIL over 2 yrs, ~Rs 4.8 bn value) to the PE investors for their ~33% stake in HSRIL.
Future Business Strategy – HSRIL is increasing its focus on high margin home furnishing segment by scaling up its big box format Home Town.
Competition and Scope of Business – The consumer durable and home furnishing market is a US$30 bn opportunity with low organized penetration level of ~9% vs. fashion at 18%. This consumer durable market is highly fragmented with strong regional players, but few national players. However, in the home furnishing segment, there are no known national players competing in the big box format like Home Town, with the exception Reliance Retail has opened two stores.
Widening Reach and Base – Driven by changes in the merchandising mix towards hard furniture, that is preferred by Indian consumers over particle board. Engaging consumers, traders and architects to make complete home improvement buyouts from a single location. This has been further aided by improvement in urban consumer sentiments.
Home Solutions Retail is all set to be as big as Big Bazzar once the Indian Economy is in the top gear 🙂