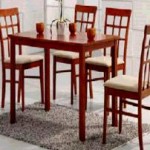 Nilkamal forayed into the retail sector in 2006 by launching @home stores. @home – the Mega Home Store is a chain of complete home décor stores across the country that retails a wide range of imported ready made furniture, soft furnishings and home accessories. Presently @home operates with 13 stores in 10 cities with over 230,000 sq. ft. in operation. Its average store size is 18,000 sq. ft. Nilkamal aims to have a total of 50 such company-owned stores by 2013 with each store averaging 20,000-30,000 sq. ft in size.
@home is positioned as a Home Maker store and targets its brand to socio economic class A & B customers in the age group of 25-45 years, with lifestyle aspirations.
Currently, the INR 600 bn Home Furnishing Market in India is 90% dominated by unorganized sector. The organized sector is witnessing a CAGR of 35% and has thus far captured 10% of the total market share. @home is still loss making and a strain on the performance of Nilkamal, but it is already 5 years old and we expect the company has moved ahead through the learning curve and may be close to breaking even in the near future.