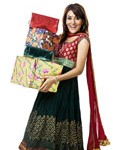 Organised retail in India, today holds only a fraction (6%) of the market share potential in India. It has risen from ZERO to 6% in a very short period mainly on Volumes and not a value-driven growth. The Bazaar shopping concept has retained its identity and character while the modern-day shopping structures represent an inspired fusion of main street shopping along with community centric activity. Today we are re-visting the Origin and History of Organized retailing in India.
The emergence of organised retail in India dates back to the pre-independence era when the country's established business houses, mostly textile majors, ventured into the retail arena through company-owned or franchisee outlets. There were also exclusive tailoring shops, that ultimately expanded their span of operations to become leading regional fashion retailers – Mumbai's Charagh Din, Kolkata's Burlington, Delhi's Mohanlal Sons and Bangalore's PN Rao, to name a few. It is worth a mention that southern India took the lead to establish the first organized retail chains in the food and grocery (F&G) segment in India, with stores such as Nilgiri's, Foodworld, Margin Free, etc. The consumer durables segment too has its roots in the south with regional players likeViveks, Giria's, Pai International, etc. India's first 500,000 sq.ft. shopping centre from Mangal Tirth Estate called Spencer Plaza, came up in Chennai in 1990.
Classification of Retail Evolution in India
Initiation – Pre 1990s

Conceptualization – 1990 – 2005

Retail Expansion – 2005 through 2010

Consolidation and Growth – 2010 onwards
Retail Initiation – This phase was essentially dominated by manufacturers establishing their presence in retail. Bombay Dyeing, the Raymond Group, the S Kumars Group and Bata to name a few. Government initiatives were – Mother Dairy, Kendriya Bhandar, Super Bazaar, etc Foodworld, was the first national retail chain from the RPG Group in the Super Market segment.
Retail Conceptualization – This time around it was not the manufacturer looking for an alternative sales channel, but pure-play retailers who entered the retail market, to expand pan-India, for instance Pantaloons, Shoppers' Stop and Lifestyle. The first generation of international brands to make an Indian entry during this phase included McDonald's, Benetton, Levi Strauss, VF Corporation, Adidas, Reebok and Nike, to name a few.
Retail Expansion – This is perhaps the most active phase of the Indian retail industry in terms of growth, entry of new players and development of new formats. With virtually unlimited potential on desk, Reliance, Tata, Aditya Birla and Mahindras entered the bandwagon. Their success brought in global retailers such as Metro AG, Max Retail, Shoprite, Hypercity, etc and more recently Carrefour, Tesco and Zara that announced their India entry and are optimistic about their growth in this market. Bharti-Walmart is a noticeable JV that entered in this phase. During this phase, a new concept in Retail Real Estate emerged – Minimum guarantee and revenue sharing models. The rapid growth soon attracted the luxury product segment – With the FDI policy 2005-2006 allowing single-brand foreign retailers to take up to 51% stake in a joint venture with a local firm, the intervening years saw the entry of several premium brands (Giorgio Armani, Versace, Gucci, etc.) mostly through joint ventures.
Retail Consolidation and Growth – We are currently in this phase. The organised retail sector witnessed an 11% decline in sales in 2008. Considering the challenges faced by the industry at present, retail chains are likely to focus on consolidations to cut costs and survive in the market.