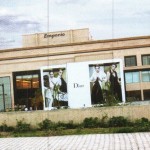 DLF Emporio is a shopping destination the likes of which has never been in India before. For the first tine in India, consumers can enjoy the pleasure of viewing the creations of 185 of the finest luxury brands in the world. With over 74 international labels and 111 Indian designers, it offers unique variety-from jewellery and watches, the largest collection of international menswear, women designer fashion, both ethinc and international, bags and accessories to home and lifestyle prodeucts, the range is breathtaking.
Aesthetically, DLF Empirio has generous spaces, Italian marble, soaring atria and dazzling chandeliers makes your visit a true sensory experience. The mall not only offers valet services and affordable parking but also multi-lingual guest services and a concierge who will assist visitor with queries, bookings and any other to make their experience complete.
Under Food and Beverage, Café E in the atrium offers world gourmet cuisine through the day. Opening soon in India's most exciting dining experience, Zest designed by the famous Super Potatoes of Hong Kong. This mega restaurant will feature six world cuisines, Interactive kitchens, a walk-in wine cellar. sommeliers and mixologist, and a Terrace Cafe and a Spa to add to the attractions of the mall.
The Hub at DLF Emporio, features for the first time in India, the dancing fountains only seen at the Bellagio at Las Vegas. It will soon have an enormous 7 metre-by-4 metre high resolution LED screen visible even in daytime.
DLF Emporio is located at Nelson Mandela Road, Vasant Kunj, New Delhi – 110070 and reach the Mall on +91-11-4611 6666 and before dropping in, you can check out the list of Luxury Stores at DLF Emporio here.