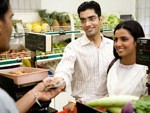 If you have been a regular reader here, you are already aware of the ongoing fight between Retailers and Manufacturers over product margins, which has promoted retailers to renew their focus on Private Labels. To quench the thirst of our reader's mind, we decided to research on all the private labels the Pantaloon Retail / Future Market and Consumer Group owns as part of Future Brands and the margins their off.
The share of private labels is different for various segments operated by the company. Its share in the fashion and electronics segment is higher at 80% and 20%, respectively, while that in food and general merchandise is lower at 5-8%. According to the management, the share of private labels in the food and electronics segment is growing by approximately 100 bps annually.
Apparels – Gross margin Range 45% to 60%

For Him the brands are as follows – John Miller, F-Factor,Bare, Lombard

For Her – Honey, Annabelle, Mix and Match

Unisex – Bare, RIG, Ajile, Akkriti

Kids and Infants – Chalk, Bare 714
Food and FMCG – Gross Margin of 20% to 40%
Snacks, Cola and soft drinks – Tasty Treat

Packaged tea – Fresh and Pure

Comodity food like Poha – Ekta

Packaged Pulses and Rice – Premium Harvest
Home Care and Other Merchandise – Gross margins of 25-45% and the brands are as follows
Aluminum Foil and Baby Diapers – Caremate

Detergent Bars and scrubbers – Cleanmate [It is CLEAN]

Kitchenware – Dream Kitchen

Bed and Bath Linen – Dream Bed and Bath
Consumer Durables has gross margins of 15-30% with the following brands as SKUS in its stores,
Air Conditioners – Koryo,SENSI

Micro wave Ovens and Multimedia Home speakers – Koryo
Currently, private labels contribute 20% to the topline of the company, which according to the management is expected to reach 25%, going forward.