To unlock shareholder value in non-retail businesses and consolidate Pantaloon Retail as a pure retail play to grow faster as the economy rebounds, Pantaloon Retail / Future Group has undertaken a massive restructuring exercise. It is dividing its businesses into three parts, namely, retail, financial services and other support businesses Here is the present structure of the Group [Pre-Restructuring]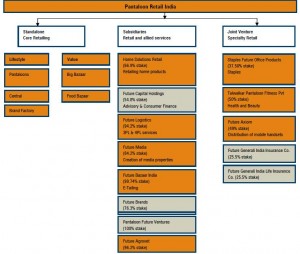 The restructuring process is progressing in full swing and, as a result, there is little clarity on the movement of various subsidiaries within the group. It will hive-off its value retail business, which includes Big Bazaar, Food Bazaar and other related formats, into a whollyowned subsidiary. The Group's format Pot-Restructuring is as follows.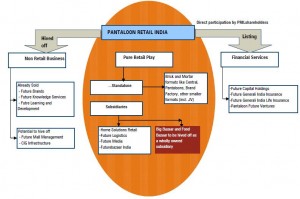 The group expanded aggressively over the past five years to increase its retail space from 1 million sq ft in FY04 to 9.6 million sq ft in
FY09, a CAGR of 75%. We expect the retail space of PRIL to reach 17.8 million sq ft in FY12E from 9.6 million sq ft in FY09, a CAGR of 22.6%.