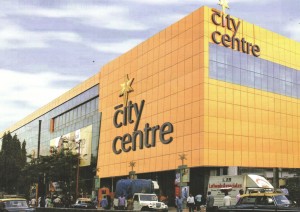 Orchid City Centre, located at Mumbai Central, is a neighborhood mall which is close 5 minutes walk from Mumbai Central station and within the radius of 10-15 minutes from the up market localities like Kemps corner, Peddar Road and Haji Ali. Spread over an area of 250,000 sq.ft., this 4 storied mall has over 50 stores. Some of the prominent brands in this mall are Big Bazaar, Pantaloons, Etam, Jealous 21, eZone, Collection I, The Body Shop, Bossini, Lilliput, Gini & Jony, Depot, Lootmart etc. The mall is a perfect destination for the entire family to shop for all their needs.
Spoon the food court at Orchid City Centre serves all kinds of cuisine vix; Indian, Chinese, Italian and fast food catering to the taste buds of one and all. Yatra and Nando's are the specialty restaurants present at the mall. The mall also has a huge gaming zone for the kids to play while their parents do the shopping. Orchid City centre is the only mall in the city which has a Gymnasium whic opens at 6.00 am. It also has Star & Sitara the beauty salon. Orchid City Centre is truly a one stop shop which caters to all the needs of an individual.
Business Inquiry Contact – Phone +91-22-30951955
List of All the Stores and Brands Operating in Orchid Centre, Mumbai is as follows.