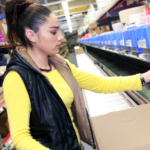 As a retailer in this dynamic world of business, Product / Brand positioning should be consistent and backed by dedicated management, sufficient facilities and funds to get implemented. Some of the key elements on which you can design your strategy are,
Value Proposition – A retail chain can position itself as a value for money or a lifestyle proposition. The value for money proposition is typically characterized by high footfalls and conversion rates, but is low-ticket, as the addressable population is the middle- and lower middle-class population. Big Bazaar adopts the tag line Isse sasta aur isse achchha aur kahan. In contrast, the lifestyle proposition caters mainly to the upper middle and the rich consumers, and often caters to aspiration products such as designer garments, jewellery and other top of the line SKUs. Typically, in a lifestyle proposition, ticket sizes are high when compared to value for money proposition. Provogue is a natural fit for this class as it has an annual per sq ft sale of Rs10,000 psf.
Get to Understand Your Customer – Translating customer requirements to selection of merchandize is important for maintaining footfalls. A good location can bring in footfalls, the range of merchandise in a store drives the conversion factor and the ticket size. The selection of the right merchandise requires a strong understanding of preferences of target customers in the catchment area as well as their spending ability and pattern. Consumer tastes in India differ from region to region, hence change your product offering.
Middle Class – Largest Consumer of Organized Retail – As per ICRIER's survey, shoppers with monthly income levels between Rs 20,001-50,000 form the major share of shoppers at organized outlets ~50%. This probably constitutes the big hardworking and educated mass aspiring for better life.
Favourable Environment – There is an increasing affinity towards organized retail due to the one shop experience and freedom to shop for long durations in such destinations. 73% of the consumers want more organized retail outlets for shopping.
Servicing the Loyalty – Clear in-store directions and employees who are trained and friendly, yet non-interfering also add to customer satisfaction. Consistency in providing good service plays an important role in building a loyal customer base, which for chains constitute 35-70 per cent of sales. An effective loyalty scheme can be a key revenue and brand driver. Shoppers Stop is the retailer of this decade with a whopping 70% of its customers being stamped as LOYAL.
We hope over study and strategies help you run your franchisee business or your family run local retail.