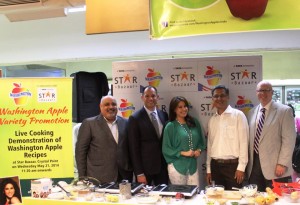 Key takeaways from the Management Meet of Trent Ltd are as follows,
On WestSide Department Store Retailing
78 of the 80 stores (10 opened in FY14) are beyond break even, reemphasizing the impact refreshed offering and store renovation have had in the format attaining market leading Like to Like (LTL) growth in a tough environment. The company will open 7‐10 stores annually including in tier 2 and 3 cities.
The company has invested in supply chain and IT infrastructure for future growth. Own labels contributed to 95% of store sales. Sees the necessity to do ecommerce and will launch it sometime in future. It sees ecommerce as a significant threat to third party retailing.
Views On StarBazaar
Food and grocery offers huge potential and it aspires to attain sales density of Rs25,000 psf in this category. Emphasis will be on standalone stores and increased own label offerings. Following cluster based expansion in Karnataka and Maharashtra o build critical mass with scale. 10 out of 16 stores are currently profitable. It sources fruits and vegetables directly from farmers and hence is able to offer its 15‐20% cheaper to the consumers. The proximity of collection centers ensure transportation from farm to shop is quick.
Landmark Stores
Integration with Westside on supply chain and operations. Q1FY15 results provisioning of Rs337 mn for winding down stores, realigning stocks (writing off categories which are being exited) with greater emphasis on toys, stationary sports merchandise. Will operate as Shop in shop in Westside. Shut 2 Landmarks in Q1FY15.
Moreover the rapid break even of Westside stores (8 of the 10 opened in FY14 are profitable) reflects the strength of the business model. We believe the proposed Tesco JV can significantly add value to the company's Hypermarket business.