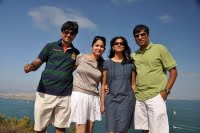 This is the second part of the coverage on Foreign Brand premium apparel market in India – as viewed by United Colors of Benetton's (UCB) MD Mr. Mohanty. Read first Part here.
Retail Model for Growth: UCB is a franchisee driven company. The objective is to work with strong partners in markets where they understand the consumer dynamics and help deliver the brand experience. UCB takes pride in in delivering world class fashion products of high quality at an accessible price. UCB manages the brand and franchisees manage the retail as their success is clearly linked with the success of their partners.
On Retail Realty: UCB consiers itself lucky enough to be very aggressive in dominating the top 50 high streets across the country in 2005, 2006 and 2007 across the top 12 cities. The real estate euphoria began in the second quarter of 2007 and reached a peak in the third quarter of 2008. This is when most brands made mistakes and fell for greed while UCB had clearly captured the market early on.
Inventory Shrinkage:Smart partners have kept it under control. However, 1.5% -1.6% is something which is inevitable when your brand drives huge footfalls across stores.Going forward, they'll be using sensomatic to bring it down to below 1%.
Challenges Faced by UCB:The major challenges are the ability to reach out to a much larger consumer base at a sharp price value equation in the next 100 towns through a wholesale model which is profitable for our partners. Benetton is a brand which has to be accessible and yet maintain high standard of quality and consumer experience whether it is delivered in Ranchi or South Extension in Delhi.
Benetton's Vision for India and Emerging Economies:Their Punch line is "Benetton in Every Wardrobe" and mission is To allow families and easy access to relevant world class fashion products for every occasion of their life in an inspiring retail environment.
India with its large population young and dynamic consumers are hungry for the best products and a world class shopping experience but the only caveat is the drivers of the Indian Economy must be smart enough to let the hard working Indians enjoy it 🙂