It is a matter of great pride that India will host the Asian Retail Congress in Mumbai next Month. Asia Retail Congress is global platform to discuss and promote the best practices in the Retail sector Globally.
Who Should Attend this Meet and Why ?
All hands above the Role of Product / Brand Manager to CEOs of Retail companies are the best fit for this event. Retail's most successful and innovative leaders from industry to academia will share their strategies and best practices.
What is the Agenda / Focus of Asian Retail Congress ?
You will also get an opportunity to attend educational sessions and gain access to the study material and solutions that will help you revisit your thought process. This is a great opportunity to network with peers from across the globe during a special networking session.
Speakers at the Asian Retail Congress
Keynote speakers include Tom Varghese of Aditya Birla Retail, Bijou Kurien of Reliance Retail and Prof Brenda Sternquist, Professor of International Retailing from the Michigan State University represents the Academia. [You can have a look at the Flyer below]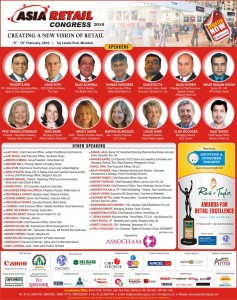 The Congress will also hand out the prestigious Awards for Retailer of the Year under 20 different categories as well as honor Retail Best Employer, Retail Leadership Award, Crown the Young Retailer of the Year, Lifetime Achievement Award etc
Registration for the Asian Retail Congress is open and you can do it online here.