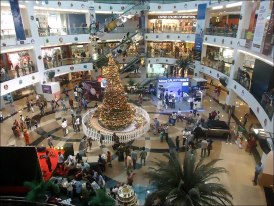 Infiniti Mall, known as one of the most popular shopping destination in Mumbai has added yet another feather to its cap by winning two awards consecutively in a month. It was awarded the "Award for Retail Excellence" Retailer of the Year Real Estate from ET Now and "Best Family Entertainment Centre – 2013" from Indian Association of Amusement Parks & Industries for Planet Infiniti.
Elated at winning the award Mr. Mukesh Kumar, VP, Infiniti Mall said,
We are delighted to receive these awards from ET Now and IAAPI. It was a mammoth task to create such infrastructure to accommodate such big rides which were first of its kind in India. We are also happy to see that some other developers are replicating this concept in other parts of the country. Today the consumers have travelled around the world and would like to see them in Indian Malls too.
Infiniti Mall is a part of K. Raheja Constructions, which was established in 1956. The awards bestowed underline the success of the mall and makes them one of the leading shopping malls in Mumbai. The IAAPI event took place on 29th January 2013 in Delhi where Infiniti won in the "Best Family Entertainment Centre" category for Planet Infiniti.