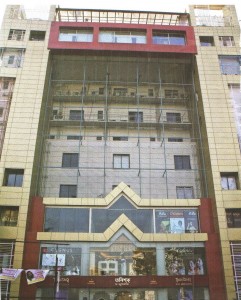 Fort Knox, a nine-storey jewellery specialty mall, towers over 80,000 sq.ft area in one of Kolkata's prime business locales. Offering a GLA of 42,689 sq.ft., the mall houses o20 operational stores of well known brands such as Tanishq, Orra, Kiah, Adora, G.B. Jewels to name a few.
One can take a look at the designer branded watches high-end antiques and silverware on offer with stores high-end antiques and silverware on offer with stores such as Tarpon. The third and the fourth floors have showrooms with impressive diamond and gold range from Ddamas, Mohh, Krunal Gems, Komal Creation, Aishwarya and a recent addition – Nandita Thiranis designer wear and European Gemological Laboratory for gradation of gems and jewels.
The next three floors are customized for jeweler's offices. Presence of International Gemological Institute for the first time in Eastern India at Fort Knox to certify the diamonds adds another gem to the crown of the mail.
The 8th floor houses a multi-cuisine food court known as "Little Italy", which tosses up sumptuous vegetarian pizzas and pastas with a great Mediterranean flavor, and Kolkata's leading night club "Venom". Finally, unveiling at the top is a multi-cuisine food court "Urban Desi" serving all kinds of food and a lounge bar.
Here is a complete list of Shops in Fort Knox Mall.
Business Inquiry Details of Fort Knox Mall
Designation General Manager
Address 6, Camac Street, 9th Floor, Kolkata – 700 017, West Bengal
Phone +91-33-40067764