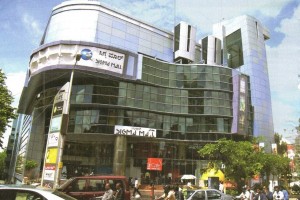 Grand Sigma Mall is located on Cunningham Road, Bangalore. The mall is an international standard family entertainment destination situated in the heart of one of south India's most dynamic cities. The mall offers an exhilarating environment that caters to a wide spectrum of markets – from leisure and entertainment to F&B and shopping.
At the Ground Level, as soon as one enters, one is faced by Bread Bazaar (bakery) and Gelato (Italian frozen deserts) treats, with Mcdonald's to the right and Cafe Coffee Day in the centre.
Retailers present include Nike, Levi's, Pepe, Provogue, Vinegar, Pluss, Excalibur and Flying Machine and e-zone, in addition to Swarovski, Oyuzterbay and a Whizz photo lab kiosk. There are also some stores exclusively for women.
Level 1 is fully occupied by a Pantaloons showroom offering a wife range of apparel.
At Level 2, for photography enthusiasts, an exclusive showroom called G.K. Vale is on offer along with the famous crockery store Jamals. Next to that is Chinese restaurant called Nanking and Solitaire (a popular retailer of diamonds and diamonds and Jewellery).
Level 3 of Grand Sigma Mall houses the Food Court is located. The famous Moti Mahal (North Indian restaraunt) is also on this floor, as is a Food Bazaar outlet. And finally, Fun Cinemas is on Level 4 with a 3-screen multiplex.
Estimated footfall on weekdays is 11,000, and this doubles to 22,000 on weekends and festive seasons. The mall offers parking capacity for 320 cars.
You can view the List of all Stores and Shops at Grand Sigma Mall here.
Grand Sigma Mall Business / Tenancy Inquiries
Designation Business Development Manager
Address Sigma Mall 15,16,17, Cunnigham Road, Bengaluru – 560072, Karnataka
Phone +91-80-41475913