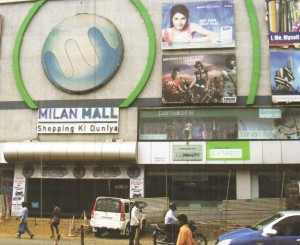 Located a mere 15 minutes from the Santacruz station in Mumbai, Milan Mall is in the middle of a bustling residential area and hence can truly be called a neighborhood mall or the mall next-door. Milan Mall also has the privilege to be the only shopping centre in corridor between Bandra to Andheri in Mumbai.
Spread over an area 90,000 sq.ft on two stories, the mall houses brands like Big Bazaar, Food Bazaar, Pantaloons, Provogue, Lilliput, Indigo Nation, e-zone, Depot, US Dollar Store etc. The mall also offers Star & Sitara beauty products, which cater to the needs of beauty conscious folks.
The mall has a single screen theatre, operated by INOX, with a seating capacity of 438. Located in the heart of residential areas and surrounded by schools and colleges, Milan Mall is a popular destination for shopping and leisure for the young and old alike.
List of All stores and shops operating in Milan Mumbai are here
Business Contact Address – Future Group Office, 3rd Floor, Orchid city Centre, Bellasis Road, Mumbai Central (E), Mumbai-400008, Maharashtra