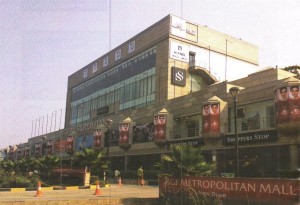 Metropolitan Mall in Saket, New Delhi is home to Shoppers Stop, Om Book Shop, and some of the best brand boutiques. It is usually a mall's flagship store that attracts the crowds, but in the case of MGF Metropolitan, it is not just Shoppers stop but an eclectic selection of brand stores as well as fine dining restaurants like Manre and AI. For the serious shopper, brands like Levi's, Reebok, White Linen, Bella, RMX Joss, Om Book Shop, and well known designers complete the experience.
The cynosure of South Delhi's retail skyline, Metropolitan Saket is strategically located, covering an area of 2,50,000 sq.ft. The aesthetically designed, world-class facade that gives a fleeting view of globally renowned brands within the mall, is a class apart. Metropolitan Saket has been designed specifically for the business and entertainment needs of consumers who desire a different elevated shopping experience. Adding to the overall ambience of the mall are major brands like Police, Dockers, Yamaha, Honda, Tasty Tangles, Costa Coffee, Sony and many more.
You can View the List of Complete stores in Metropolitan Mall, Saket here.
You can contact the Management at Address 3rd Floor Annexe Block, Metropolitan Mall, M G Road, Gurgaon-122002,
Phone +91-124-4014895
Fax +91-124-2570670