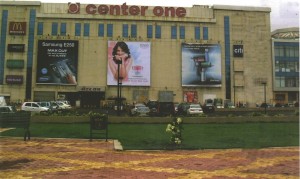 Center One a part of the Benzer group, is a 1,50,000 sq.ft. mall. Located at Vashi, the heart of Navi Mumbai, it is very close to the affluent residential areas of Nerul and CBD. The property is strategically located between Sector 17 and Vashi Railway Station / Bus Depot and shares a common border with Mumbai-Pune Express Highway on one side and Palm Beach Road connects Nerul, NRI Complex, CBD & Dronagiri to Vashi) on the other. Because of its strategic location Center One is also easily accessible from Ghatkopar at one end and Panvel on the other.
Center One is the premier and most preferred shopping destination in Navi Mumbai. It re-defined the mall culture in Navi Mumbai, with shopping, entertainment, food, leisure and frequently needed services under one single roof with the right mix of products and services, value-added features and the latest facilities combined with an ambiance set to capture the audience.
A dedicated space of over 1,25,000 sq.ft for shopping, offers the best of national and international brands in an array of products and services spread across clusters to offer convenience in shopping. Spread across three levels, the mall hosts one of the finest mixes of national and international brands, including Food Bazaar, Pantaloons Just in Vogue, Sense, Benzer, Arrow, Stanza, Provogue, Weekender Kids, Giniente & Jony, and many more.
A dedicated level to food and entertainment houses all kinds of cuisines from McDonald's to Café Coffee Day and many other local specialities. Here is the list of complete Stores and Shops in Center One Mall, Vashi
Center One Mall Shops / Retail Space and Other Business Inquiry Contact Details
Company's Name Fashion Lifestyles (India) Pvt.Ltd.
Address Sector 30 A, Vashi Navi Mumbai – 400705, Maharashtra
Phone +91-22-39112222, 27812222
Fax +91-22-39112200, 27812200