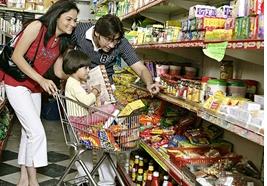 Nilgiri's the food and Grocery Retail Chain with large presence in South India earns over 30% of its food category revenues from Private Labels in categories such as Cereals, Dairy Products, Bakery and Pulses. Bakery products contribute 15% of the overall food segment sales.
Private Labels are in-house manufactured and sold thus providing higher bottom-line to the retailer. Nilgiris will undertake a complete revamp of its product packaging distinguishing itself as a Healthy and Consumer Friendly brand across all its private label SKUs.
Nilgiris has launched new products catering to new categories such as Low Fat Fruit Yogurt, Oats, Multigrain Sugarfree Poridge, Giner Oil. For the forthcoming Diwali, the company has launched Lamp Oil – Blend of 5 Oils for Prayers. They are also launching Health Cookies and Bottled Water.
It will come as a surprise to many of us that this small Rs 700 Cr retail chain records Average Bill at Rs 2,000 / sft area of operation, which is Double the Industry Average in Food and Grocery retail category. Nilgiris currently has 128 Stores and plan to end the year with 150 stores with franchisee based expansion.