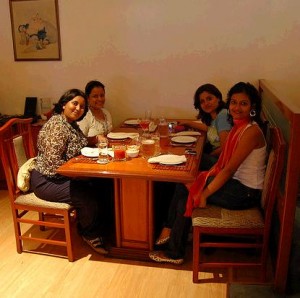 Speciality Restaurants Ltd promoted by the Chaterjees forms part of the organized food-service market, which is in a nascent stage and forms only ~20% of the industry. It is estimated that various categories of the organized food industry combined is growing at ~25% a year, driven by demographic and socio-economic changes such as rising disposable income, increasing number of working women and growing urbanization.
Fine-dining restaurants are at the top of the evolution of eating habits. Specialty Restaurant [SRL] Chain operates 12 different brands in this category and is favorably placed in this market. Brands of SR are as follows,
Mainland China – Serves Authentic chinese food and each restaurant is of the size of 4000 – 6000sft with a seating capacity of 120-200. Average bill per person is – Rs 400-850. There are 42 restaurants.
Oh! Calcutta – Serves Authentic Bengali Food with each outlet of the size of 2000 – 4000sft with 60-120 seating capacity. It records an Average Bill / Person between Rs 700 – 1100. There are 8 such restaurants
Haka – On-the-go chinese. Typical store size of 1500-3000 sft with seating capacity of 70-100. Average Bill / Person is Rs 250-350.
Sigree – serves Nothwest Indian cuisine in spaces ranging between 4000 – 6000sft large enough to accommodate 130-200 seats and records an Average Bill / Person of Rs 500 – 650
Flame & Grill – Cook kebab at your table! Each outlet is of the size of 2500-5000 sft good enough to accommodate 60-100 and the average bill / person is Rs 450-650. There are in all 7 restaurants.
Machaan – is a Jungle theme restaurant. Typical size is of 5000-9000 sft and the Average Bill / Person is Rs 500-550
Shack – Bar lounge
Kix – Bar with dance floor
Kibbeh – Lebanese bar lounge
Just Biryani – Take-away format
Sweet Bengal – Confectionary shop
Speciality Restaurant Chain is backed by the strength of a professional management, robust supply chain, a scalable business model, focused customer service and innovation in products / SKUs served. The company has the big first mover advantage in India. Management has drawn the blueprint with key focus areas of the company as – expansion of the presence of Mainland China, emphasizing the owned-restaurant format versus a franchise and improvement of profitability and economies of scale.