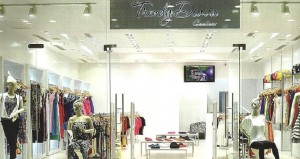 Trendy Divvas, a designer label for women apparel and accessories came into being in 2008. Offering a wide range to fashion connoisseurs from pret to couture to contemporary, classic to avante garde and desi to global, the creations from the brand designers have already mane a mark in a short span of time.
Gurprit Sawhney Managing Director says,
There was no Indian brand actually for Indian Women. Even today there is no Indo-Western Brand. To ensure the for women apparel and accessories, collections stay fresh, we upgrade our merchandise every month. We have all kinds of garments for women for every age
Trendy Divva has a manufacturing unit in Gurgaon. It has 8 stores across India of which 6 are located in Delhi-NCR and the others are in Amritsar and Chandigarh. The Average size of store is 1000 sft and each of the store locations are chosen carefully to attract maximum footfall.
Trendy Divva records an annual turnover of Rs 15 Crore with a growth rate of whopping 65%. They spend around 5% of sales on Brand Marketing which includes e-mail and online campaigns. Stores in DLF Place and Select Citwaylk, Saket are doing the best business which is directly proportional to the footfalls in the mall.
The brand also exports to the US and the UK. So far response has been good from UK customers. Trendy Divva also offers bespoke services to some of its customers. All they need to do is put their imagination on paper with a picture if available and their designers will come up with innovative fashions for their customers. Any competitor to Trendy Divva ?