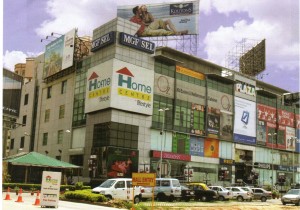 The Plaza is a niche project specifically targeted at the home shopping requirements of Gurgaon residents. It has a wide array of retailers for kitchen, home interiors, lights and electric goods all under one roof. The Plaza has been a stupendous success with occupancy of 100 per cent.
The Plaza Mall was amongst the first in the category of specialty malls in Gurgaon. The MGF Plaza Mall specializes in the niche of Home and Interiors. The Plaza's prominent stores are Lifestyle Home Center that exhibits high-end furniture for all desires, Sony, Reiz and others. Apart from these, the mall also has stores allied to flooring, carpets, curtains, blinds, bathroom fittings, art materials and property dealers.
There exists a different category of stores in The Plaza Mall, which, however, are very much related to home and furnishing. This is the consumer electronics category. The brands to watch out for here are Sony, IFB, LG, Samsung, Panasonic, etc. These stores contains all popular consumer electronics categories – watching machines, televisions, music systems and other such items that relate to daily home and furnishing needs.
The mall also houses a few family restaurants that serve different cuisines. To name a few, Khaaja Chowk for north Indian, K2 Korean and Chinese and OZ for Italian food.
We have Summarized the Store Directory of Plaza Mall, Gurgaon here.