Review of the Metropolitan Mall, Gurgaon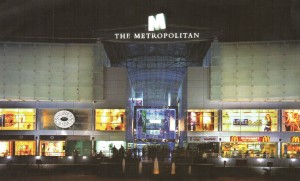 The Metropolitan Mall in Gurgaon features a magnificent 7-cinema multiplex, a beautiful atrium for visitors to hand around in, the best mix of brands – national and international, 150 retail outlets, a food court, 15 speciality restaurants, and a bowling alley. It's a melting pot of various types of entertainment that caters to variety of tastes, making it the complete family, fun, entertainment destination and a world class experience for its customers.
A shoppers delight, The Metropolitan Mall in Gurgaon is built over 3,50,000 sq.ft. The fully operational mall has top-notch brands that include Shoppers Stop, McDonald's PVR Cinemas, Archies, United Colors of Benetton, Marks & Spencer, Nike, Reebok, Barista, Planet Sports, Pizza Hut, THS, Sony, Hidesign, Lacoste and Bose amongst others. In its first year of operation, The Metropolitan mall Gurgaon achieved 100 percent occupancy.
You can View the List of Stores in Metropolitan Mall, Gurgaon