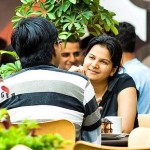 Global Coffee chains – Starbucks, Peet's Coffee have witnessed increasing demand of Organic Tea from the Hills of Darjeeling. Germany is expected to become a major market for the same. It is gaining lot of acceptance in the US and European Union. Russia, UAE and even China has started lifting the produce in high volumes.
Most of this merchandise retailed in EU at an average selling price of Euro 25-30 / Kg and USD 25-30 / Kg in the US. The price of Premium Organic Tea from Darjeeling can go as high as Rs 30,000 / Kg which is mostly sold in Private deals.
Ashok Kumar Lohia, chairman of Chamong Tee Exports said,
Drinking organic tea was initially fashionable in the US and Europe, but now it has emerged as a necessity in many other global markets. Despite a recession, there's huge demand which Indian tea producers are unable to meet.
The Indian Government must take steps to protect this natural resource and make the best of it.