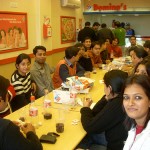 Fast food on the go or Quick bite existed in India in several different forms from Street Vendors to stalls on crowded Railway Platforms all doing brisk business. However, the strata of Middle Class and Higher, looked for similar fast food on the go with focus on hygiene and health which gave rise to a business opportunity under Quick Service Restaurant / QSR category. Unlike fine dining restaurants, QSRs are small self-service outlets that provide value-for-money food on the go. The size of the market is estimated to be at Rs 2500 crore.
Subway – The Eat Fresh Sandwich has gained increasing acceptance in India. Thanks to the younger scion of the Dabur family – Mr. Burman and his friend Rohit Aggarwal who pooled in INR 5 mn each and franchised the Subway restaurants in India and began their journey. They had their own share of problems with none aware of this new concept of eating as Indians are used to Spicy food and something fried or tastes like Indian. They indeed altered the menus and introduced chicken tikka and chicken seekh kabab. Mr. Burman recalling his journey says,
Franchising Subway began as a hobby. People were very doubtful about the venture and would ask if I planned to make sandwiches all my life.
Today Mr. Burman and his friend duo under the Lite Bite Food run 40 QSRs and hope to reach 200 within the next 3 years.
The US Consulate is helping Indian businessmen understand the taste of their QSRs and recently held a a programme to introduce fastfood outlets such as Church's Chicken, Round Table Pizza, Tropical Sno and Melting Pot.
Mr. Tapan Vaidya, GM of Papa Johns Pizza in India said,
India offers tremendous opportunity due to its sheer size which will see the Papa John's outlets quadruple to 100 in the next four years and International brands can cash-in on this boom.
It is not just the Western / MNC companies that run this business. If you are in Chennai you must have heard of Sunil Cherian's Burgerman and in Mumbai Jumbo King. So there will be some Indian Pioneer like Kishore Biyani localizing the model.