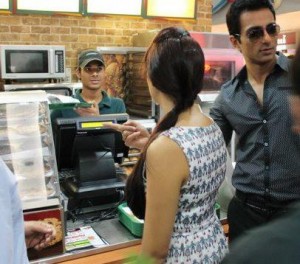 Quick bit fast food chain Subway – Serving Fresh and Healthy Sandwiches / Subs has reached 300 store locations across India. The company recently opened the 300th restaurant at Terminal 2 of the Mumbai International Airport. with the rising inclination of eating healthy food, Mumbai figures prominently in subway's growth plan.
The American headquartered brand has presence in 50 cities with 263 franchisees. Apart from Food-courts in Malls, Subway is making its presence felt in non-traditional locations such as Hospitals and Colleges as well. Despite the fact that there are just two 100% Veggie products on the menu across India, Subway has went a step ahead and introduced ALL VEGETARIAN outlet at the Lovely Professional University managed by the Mittal family known across the world for being a strict vegetarian.
Subway now plans to take its offerings to Tier-IIand Tier-III Cities in India. No Beef and Pork products are on the menu. However, some local Indian meat flavors have been added such as Chicken Tikka and Roasted Chicken. Veg Shammi is another local flavor.
Subway India contributes 2.5% to the parent companies overall Revenue. You can talk to Subway about your experience in their outlets as the company is determined to connect with consumers and serve them.