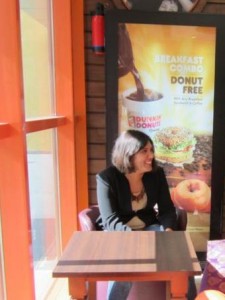 Jubilant Foodworks, the Master Franchisee for Dunkin Donuts Opening outlets in Mumbai, Dunkin is now spread across 2 regions and we expect the Bangalore stores to open in FY15 as well. While each region will have flagship stores such as Connaught Place / Greater Kailash in Delhi and Bandra in Mumbai, the model likely to be replicated is of smaller outlets measuring between 1,500-1,600 sqft with about 6-7 employees per shift. We also expect sales for each outlet to be similar to a new Dominos' Pizza outlet. The stores are clearly attempting to bridge a gap between cafes / quick service restaurants and more casual dining restaurants, offering menu choices wider than a typical cafe but faster and less personalized service than a casual dining restaurant.
Dunkin remains in an earlier phase of development than Domino's, we attribute the same multiple as there is still limited information on the exact profitability and return potential of the Dunkin franchise.
Dominos' Pizza Goes to East India following The Indian Prime Minister
The company management and store managers suggest that the thrust of new store expansion will be pointed towards eastern India. Jubilant is setting up 2 new commissaries, which should increase the supply chain in eastern India – one in Guwahati, which will service the North-eastern states and one in Hyderabad, which should also help service some Eastern states. Meetings with store managers in Eastern India confirm that demand is strong despite some of the older stores being cannibalized. Also competitive intensity remains lower allowing JUBI to establish a first mover advantage.