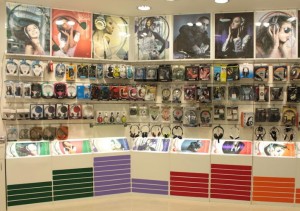 Headphone Zone, India's first exclusive Headphone and Earphone retail brand, has announced the launch of its online store, www.headphonezone.in. A unique multi brand retail concept that combines Music, Electronics and Fashion, Headphone Zone operates 10 retail stores in Bangalore, Mumbai and Chennai, and now hopes to leverage India's eCommerce growth by bringing its retail experience across India via the webstore. Headphone Zone features over 800 different Headphones, all unique with a point and purpose. Just like no two individuals, their personalities and styles are the same, the same applies to Headphones.
Headphones are increasingly becoming an important part of daily life, and at Headphone Zone there are 15 different categories including the Diva Collection – an exclusive range for women, Athlete – A sweat resistant range for sports wear, True Sound – Headphones for Audiophiles, Zen – noise cancellation headphones, and Bluetooth, Apple iOS & Android – dedicated categories for mobile phones. Whether a consumer is a fashion conscious music listener, an artist recording a riff in the studio or an audiophile on a business trip there is a specific headphone awaiting each of them.
Raghav Somani Founder and CEO of Headphone Zone said,
In order to maintain synergy between Online and Offline retail models, Headphone Zone has placed emphasis on developing great content rather than providing steep discounts, a problem plaguing the retail industry as a whole. "Our online store offers Headphone Zone the opportunity to minimize steep rentals and real estate costs while rotating our inventory and bleeding our assets faster.
Headphone Zone aims to scale up it's online sales using a mix of online and offline marketing which includes use of Social Media, Search Engine Advertising, as well as Referral marketing in College campuses across India to target the young smart phone users and music enthusiasts.