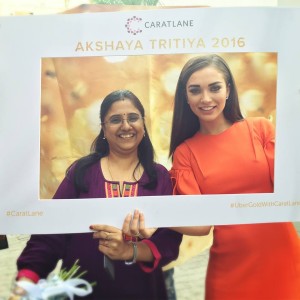 Tata group promoted Titan acquired a majority stake in Carat Lane Trading Private Limited, which is involved in the business of designing, manufacturing, trading and retailing (largely online) of gems and jewellery. Titan's focus on its OMNI-channel strategy, store expansion potential and recent successful product launches offers an underappreciated opportunity for brand Tanishq to recruit new customers.
Titan management, synergies with the jewellery business of Carat Lane is very high and are as listed below
Technology – Carat Lane has indigenously designed a number of industry-leading initiatives to improve consumer experience. This includes opportunities for consumers to try their selected jewellery pieces at home, virtual try on (with ability to rotate the face 180 degrees) with the Carat Lane mobile app, live chat and support, ability to customize jewellery, separate same-day shipping catalogue etc Indeed at first glance we find the cataloging on Caratlane.com to be superior vs. that on Tanishq.co.in
Ability to digitally influence consumers: The O2O (online to offline) initiative will likely enable greater interaction with consumers, as they are likely to spend more time with the brand online vs. at the store. In
addition, the ability to analyze all facets of consumers' online behavior will permit targeted advertising, promotions, merchandizing and trendspotting – which should help contribute to higher conversion rates, we believe. Our channel checks with industry experts suggest that in a successful OMNI-channel scenario, >40% of customers select jewellery pieces online before finalizing the purchase in stores. This increases the perception of choice available to consumers, we believe.


New paradigms for inventory management: Our industry checks suggest that online jewellery companies operate with inventory (asset) turns of 6-9x. This compares to 2-3x for Tanishq, in our view. All facets of the business including customer relationship management, sourcing, manufacturing, supply chain management can be altered to drive operational improvement even in the offline business.
Reduce cost of fulfillment: With a strong technological backbone, Tanishq may be able to use its existing stores as fulfillment centers to reduce costs vs. pure online players. This compares to the current practice where that retailers sell inventories in separate batches online (via centralized warehouses) and offline (via retail stores).
Titan is likely to eventually need smaller retail stores even as it is able to enhance customer experience at its stores. Moreover, it reduces the need to rely on a salesperson to gather information on customer choice, budget etc. Even advertising expenses can be reduced with more targeted spends to improve overall returns on marketing investments.