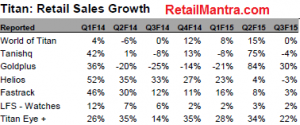 Even during difficult macro economic scenario, Titan's brand strength in the jewellery business has performed well with long-term growth visibility from steady space addition across retail formats.
As you can see in the Quarterly performance chart above, Titan has managed to Build a basket of Strong Brands – Tanishq, Gold Plus, Helios, Fastrack and Titan Eye + across segments.
Bhaskar Bhat, MD of Titan Industries Group of Companies told us,
Titan Company, with a large portfolio of strong brands, operating in multiple industries, grew by over 9% in the third quarter. This period, which is a festival quarter, faced heightened activity from e-commerce players, participating in this gifting season. Going forward, the market sentiment is looking good, with the fiscal budget from the new Government coming up, drop in inflation and positive global factors like the slump in oil prices. The Company is gearing up for the last quarter with launch of new products and advertising campaigns that are lined up, including activation by some of the brands.