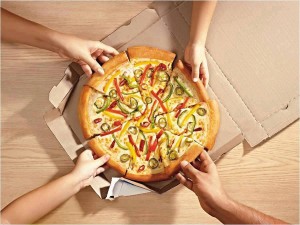 Sentiment may have bottomed, but unlike few other discretionary categories, food services remain under pressure. For Domino's in particular, substantial price hikes (~10% since Nov, as mgmt seems to be maintaining ~75% GMs – unlike peers) may become an issue from a demand perspective.
Expansion by organized peers does put pressure on sales / costs, but more importantly, aggressive promotional spending by companies like Pizza Hut is a concern. While competition is believed to help grow the market long term, we do see issues for JUBI, in the near to medium term. Even though Domino's stopped its "Buy One Get One free" (BOGO) offers in Nov / Dec 2013, competition continues with these (even extended to weekends). It's noteworthy that SSS for Dominos was lower than Yum! India [Pizza Hut] in 4QFY14 for the first time (Fig 1). While mgmt believes competition can help grow the market long term.
Dunkin Donuts Store Expansion
Mgmt targets 25 stores in FY15 (+16 in FY14, tad slower than initially expected). It has added wraps to its all-day part menu (foods remain the mainstay in India; donuts/coffee may take time to scale up). It reiterated
margin dilution due to Dunkin Store Openings in FY15.