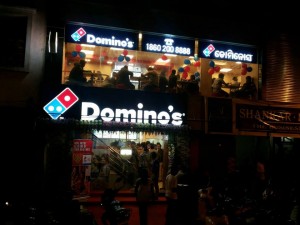 Jubilant Foodworks the master franchisee of Domino's Pizza in India reported positive SSG performance was in sharp contrast to 10% decline reported by Yum! Brands India (Pizza Hut and KFC); we highlight Yum! SSG decline was stronger this quarter versus 2-4% decline witnessed in the past four quarters. The management attributed the SSG recovery to a lower base and indicated no major pick-up in consumer spends. Price hike of 3% taken in November also aided SSG a tad, in our view.
Management highlighted that over the past 12-18 months, net consumer-level prices have gone up by 18-20% (including 5% impact due to higher service tax last year) across QSRs and foodservice brands. This has impacted overall volume growth in the sector as value-for-money scores for all QSRs have trended down. SSSG holds the key to both growth and profitability at Jubilant given its high operating leverage. SSSG has turned negative in the past four quarters amid weak economic conditions, but with the economy picking up again and inflation being brought under control, discretionary spending should recover, driving a revival in SSSG from FY16
Jubilant has built up solid nationwide capabilities both in terms of its delivery operations and in terms of its supply chain after significant investment in centralized food production facilities. With these foundations in place, the cost of expanding its existing Domino's Pizza network or starting new franchises such as Dunkin Donuts should be marginal, making such opportunities potentially value-accretive catalysts.
Store expansion continued at a robust pace – JUBI opened 41 new Domino's stores and 9 new Dunkin Donuts stores during the quarter to take the end-3QFY15 store count to 838 and 46 respectively. The management maintained its guidance of 150 new Domino's stores and 30 new DD stores in FY2015E and hasn't yet shared any guidance for FY2016E.