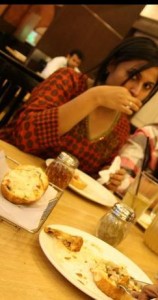 Dominos Pizza witnessed moderated growth of 22% during the quarter [June-12] after 9 quarters of25%+ SSS growth due to weakening consumer demand. Management noted that they have witnessed some sluggishness in consumer demand during the quarter which made an impact of couple of percentage points on same store sales growth.
Company has been combating these signs of demand sluggishness with initiatives such as higher on-the-ground marketing, aggressive promotions, continuous product portfolio refreshes, and foray into new distribution channels such as online, mobile application platform, etc. Online sales have been on a steady increase and now contribute a revenue share of low teens.
Dominos added three new Pizzas 5 Peppers (in veg), Zesty Chicken, and Chicken Fiesta (in non veg) during the quarter. They also introduced new toppings for their value product Pizza Mania. Company has also launched new Stuffed Garlic Bread during the quarter.
Company also delayed their usual price hike of 2-3% in April in view of weaker consumer sentiments. Company took 3% price hike in the month of June and will take another price hike in the same range towards second half of the year leading to an overall pricing growth of 5-6% over FY13.
Store Expansion Dominos is now looking to add 100 stores in FY13. They added 24 stores in 1QFY13. Half of the new stores will be opened in top 10 cities while the other half will be opened in Tier 2/Tier 3 cities including a mix of current and new cities. Dominos entered 5 new cities is now present in 110 different Indian cities.