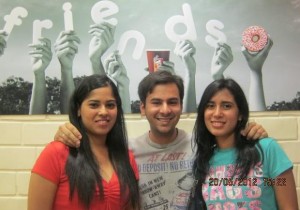 Jubilant Foodworks master franchisee of Dominos Pizza and Dunkin Donuts in India reported healthy 42% YoY revenue growth in 2QFY13. Company highlighted that consumer demand has seen a healthy pick-up since Sept-12. Same store sales growth came in at 20%. Online and mobile ordering platforms have been well accepted by the consumers reflected in the fact that 14% of delivery orders were made online.
The management told us that they have hiked the prices by 3% in November and is unlikely to affect sales as they projected 18% SSG. Pizza to Non-Pizza sales is in the ratio of 80:20. Dunkin donuts has Four stores are just ~2 months old; hence, it is too early to see the financial details of this division. Employs around 150 employees.
A Minimum of 110 stores will be opened. Management is Optimistic and hopes to follow this trend in foreseeable future. 50% of new stores will be in Top 10 cities in FY13. Its ambition is to increase store count every year as management anticipates market and opportunities.
Performance in Tier-2 / Tier-3 Cities In the first year of operations, sales in Tier 2 and 3 towns are marginally lower than sales in old stores in prime cities (70‐80% of system sales of stores). After a lag of two years, these stores catch up.
Why Sub-Franchsing not Viable ? Majority of employees are consumer‐facing. Management is of the opinion that sub‐franchise model will not be effective as human practices and hygiene may be compromised. Also, there is no shortage of funds. Hence, there is no need for a sub‐franchisee model.
How are Dunkin Donuts Localized / Indian-ized ?
In an attempt to capitalize on the festive season, Dunkin' Donuts has launched a localization drive. It will roll out variants of doughnuts like coconut rasgulla, petal gulab jamun and motichoor ladoo rings in India. This idea, if finds favour, may even be exported to other markets. Dunkin' Donuts has also introduced premium gift packs for Diwali, aimed as a replacement to sweet, chocolate or dry fruit boxes. They are positioned as an alternatives to Mithai (Sweets) which is facing competition from International Choclates brands as well.
Jubilant has also repositioned its brand with new tagline – Ye Hai Rishton Ka Time to appeal to the mass of Indian consumers.