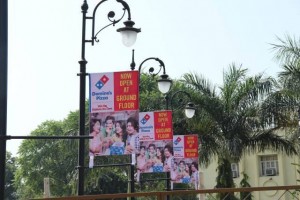 Jubilant Foodworks, master franchisee for Domino's Pizza India reported Same Store Sales growth (SSSG) of 6.6% yoy. Management highlighted that acceleration in SSG recovery was aided by innovative new launches, ground-level activations and thrust on online ordering. While it is now relatively more confident of an earlier recovery to high single digit/double-digit SSG in 2-4 quarters (versus guidance of 4-8 quarters a couple of quarters ago), management did caution that broader weakness in QSR sector (as reflected in qoq deterioration and negative SSG posted by both competitors Yum! brands and Westlife Development) remains a key risk to its outlook.
Consumer sentiment continues to remain weak, although the company has been able to help drive SSSG with the help of new product launches in the quarter. Management also highlighted that the QSR space in general continues to see negative same store sales growth.
The total store count stood at 876 Dominos Pizza outlets and 54 Dunkin Doughnut stores. The management has guided for 150 Dominos and 30 Dunkin Donuts store additions in FY16 and indicated that SSSG could reach high single or double digit growth in the next two to four quarters. Management indicated that the four new commissaries (Nagpur, Hyderabad and Guwahati have commenced operations) will help support a total store count of 1,500+ stores.
Dunkin Doughnuts [DD] impact on margins was 180 bps (annual basis) in FY2015 even though most stores have turned profitable at store-level impacted by higher corporate overheads and SG&A; management has guided for a breakeven at 120-150 store count. DD's contribution to total revenues currently is in mid-single digits and will remain so for the next two years, as per management.
Online & Mobile Ordering
While it currently accounts for 29% of total delivery sales, the management expects OLO to account for 40-50% of delivery sales over the next few years.