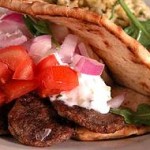 Falafel – the most sought after Med / Lebanese food is the name of restaurant chain started by JN NJEG Foods India in 2008. It was acquired this week by Mirah Group well known for their Gujarati Food Chain – Rajdhani.
Falafel currently has 7 restaurants and the management of Mirah has promised to increase it to 30 by end of 2010. The most sought after menu at Falafel is – Hummus Plates with variety of toppings, green salads, pita bread, desserts [Bhaklawa Sweet] and ofcourse the Lemonade 🙂
Mirah Group Director, Mr. Goenka said,
The investment is low and the time taken to market is also less. The recipes are standardized and once we open a central kitchen, 10-12 outlets can just roll.
If marketed well and quality maintained to match the original Lebanese food, Falafel will have lot of loyal customers in India as the basic food taste matches the taste buds of Indians, including us 🙂