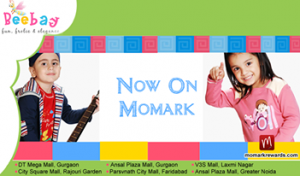 Momark Rewards, a unit of Momark Services is a tech start up that's silently transforming offline retail scene in India. One of the unique customer engagement solutions, Momark Rewards enables brands as well as the smallest retailers to launch their own loyalty and coupon programs, view customer analytics, launch marketing campaigns and more with ease.
Momark changes the way offline merchants and customers transact, interact and engage. Thus, they are bringing about paradigm shift in what small retailers know about their customers and how they engage them.
While there are many such solutions that cater to large businesses, Momark Rewards is the only solution that caters to the needs of a small merchant too. Here are a few of their outstanding innovations:
1. Needs no integration with PoS, so works with all retailers
2. No store visit needed, can be installed anywhere in the world remotely
3. No need for technical expertise to run/manage the program
Momark Services started with Rs.45 Million seed fund and beta launched in NCR in 2013. Currently, Momark Rewards is operational at more than 100 outlets across 18 cities. They have captured nearly 220 million transactions so far and created a customer database of 64000 unique customers.
During the last two years, they have helped retailers multiply their repeat visits and business. For example, Petals, a kidswear store saw 23.5% of its customers coming back after initiating the program. Indian Grill Room, a fine dine restaurant, earned nearly half a million from repeat customers after association with Momark.
Customers get multiple benefits via the app. First of all, it is a location based listing of offline retailers and offers. Consumers can also earn loyalty points, discounts and coupons from stores. All they need is one mobile app to track, redeem, gift their rewards from countless offline outlets.