Review of the Gold Souk Gems & Jewellery Mall Gurgaon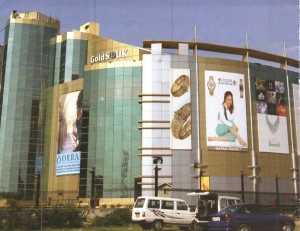 With 1,80,000 square feet of opulent and lavish shopping expeience, Gold Souk Gurgaon in home to over 100 national and international jewellery barnds. The Success of Gold Souk can be best measured in terms of the high converstion of footfalls, averaging over 70-80 per cent. Gold Souk has been felicitated with over a dozen awards and recognitions from various trade associations and is also a proud recipient of the prestigious `Best Commercial Retail Venture` awrd instituted by Builder Information Bureau.
Gold Souk offers shoppers a world class jewellery buying experience that is unmatched both in terms of choice and value. With jewellers and jewellery brands from all corners in India and abroad, Gold Souk offers a mind-blowing selection of classy jewellery ranging from elegant earrings to ornate necklaces. With showrooms spread lavishly over three floors, Gold Souk leaves customers spellbound by the sheer variety of jewellery on display. And if that doesn't suit the customer's taste they can even get their own piece exclusively created by world class designers.
Here is a list of Complete stores and shops in the Gold Souk Mall Gurgaon